Track the progress of sponsoring through CMEPEDIA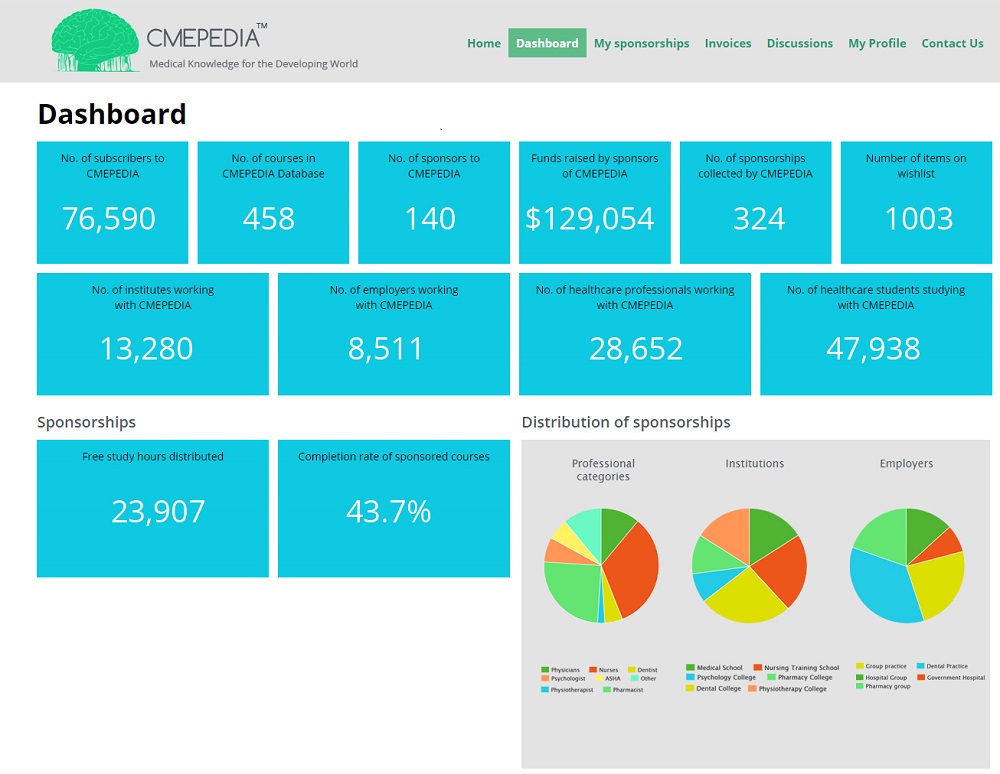 Assess the impact of your fellow sponsors and be inspired
Why sponsor via CMEPEDIA?
CMEPEDIA provides the opportunity for health-care professionals of all categories to have access to accredited educational modules. The content of these modules has been quality controlled by independent professional bodies.
In India, CME is still a matter of out-of-pocket payment for health-care professionals. As CMEPEDIA caters to super specialists in urban tertiary settings as well as to accredited social health activists (ASHAs) in rural areas, the amount of money spent by various types of health-care professionals on continuing education varies widely.
To close that gap, CMEPEDIA offers the opportunity to sponsor educational modules to health-care workers.
You can be very specific in the allocation of your sponsoring. You can sponsor, for example, a student nurse in a rural area as well as to the orthopaedic department of a hospital in a metropolitan city.
You can browse the wishlists of health-care workers, institutes or employers.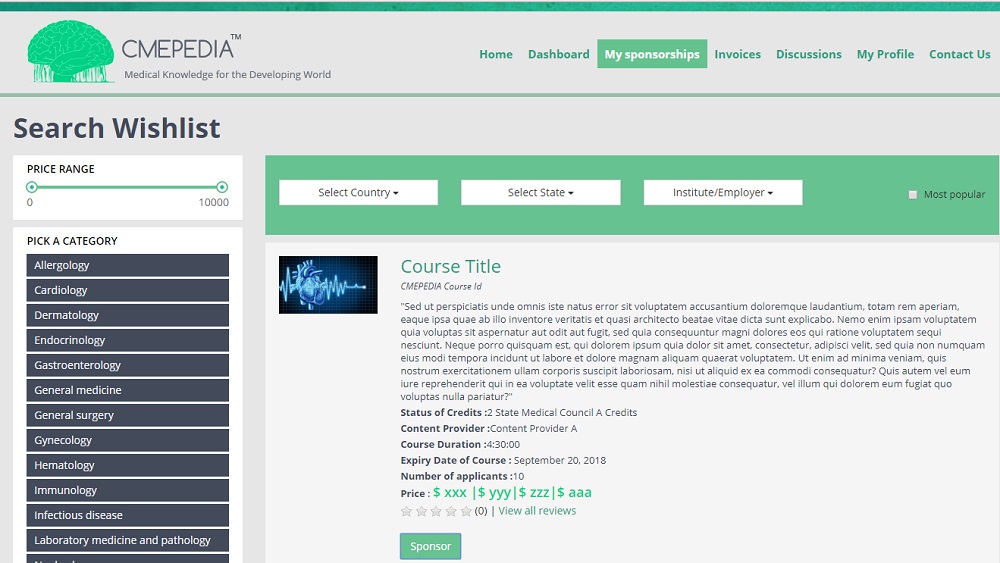 You can send a short message along with your sponsored module. You will receive a notification of completion and can receive a message from the health-care worker in return.
However, to protect the privacy of our CMEPEDIA users, you will be able to narrow down the criteria for your sponsored module to a specific professional category at an institute or employer, but not to a specific health-care worker. Your accompanying message has to align with our Advertisement Policy. You will not be able to sponsor free modules.
You can reduce the carbon footprint of CME by sponsoring premium memberships.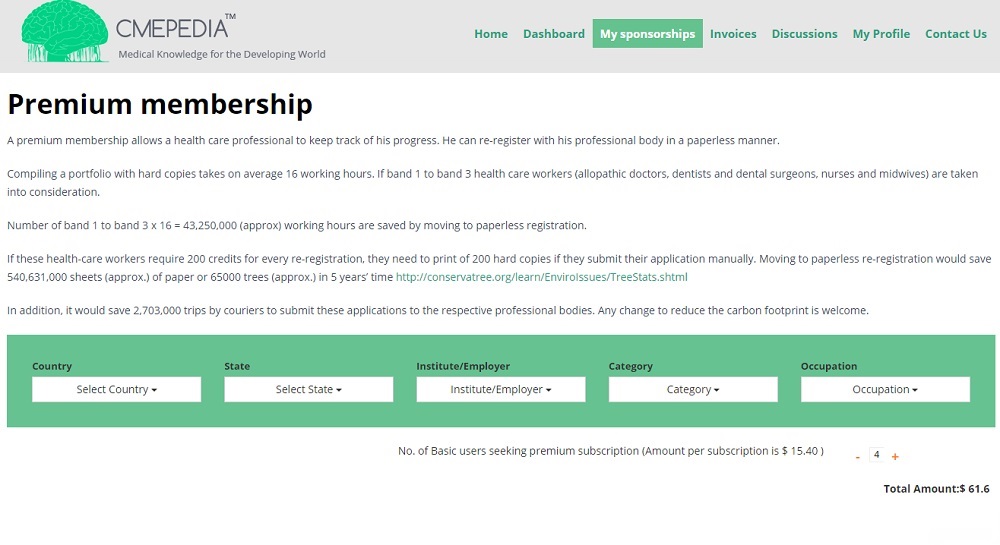 You can track the uptake of your sponsored modules.

CMEPEDIA sets a standard deadline of a month for completion of a sponsored educational module. You can personalize this deadline. However, if a CMEPEDIA user does not meet the deadline, the module will be forwarded to another CMEPEDIA user until it is completed. In that way, you can be assured that your sponsoring will serve its purpose.
The health-care worker can set his or her own sponsoring preferences. He/she can accept sponsoring or opt to forward them to CMEPEDIA users of his/her choice.
CMEPEDIA values inclusive entrepreneurship. You can read our mission statement and our considerations for pricing here. You will note that CMEPEDIA charges a 15% redistribution rate. We are able to keep our costs low as we have zero production costs. We increase the impact of educational modules that have been produced earlier for a smaller audience. In addition, we rely strongly on technology, work with flexible freelance staff and have zero outlay on Board members. Efficiency is at the core of our business. As CMEPEDIA is a for-profit organization, no tax benefit can be claimed for your sponsoring.
Your sponsoring will stretch even a little bit further, as for every module you purchase, INR 10 (EUR 0.15, USD 0.15) is contributed to the CMEPEDIA fund, which assists authors in developing countries to produce their own content.